Since the pandemic restrictions have been eased in most parts of the world, it's time to get ready and enjoy the fresh air of the summer season. Yes! I'm talking about camping in the thick green forest or somewhere in the mountains region. 
However, don't forget to include an inverter in your must-have list. Your vacations won't be complete without a power backup. With a power inverter, your camping journey becomes more striking. 
A power inverter is of great help while you're camping. With a bit of energy, you can charge small appliances and devices. Sounds cool, isn't it? 
But, as the market is saturated with various inverters of different sizes and features, it is difficult to decide which size inverter is best for camping.
 It especially goes for the beginner. If you're also confused over any such thing, then relax and follow this guide.
 Our ultimate guide has everything that concerns you about the inverter required for camping. So, let's begin with this. 
Uses of Inverters
Inverters are of great importance. In electrical engineering, one common purpose of an inverter is to connect solar panels to the regular AC power grid. You can also find them in some wind turbines that allow steady AC power no matter the wind's speed. 
Besides this, small inverters are also popular among people. They are primarily used in camping tents, motorhomes, and caravans. They are in the range of 100W perfect for low-powered items like phone chargers, to 3000W for a kettle heater. 
What Size Inverter Do I Need For Camping?
 The most frequent question people ask is about the size of inverter they'd need for camping. The size of the inverter depends on your needs. Usually, inverters range between 150 to 6000 watts. Your inverter should be double the size of the draw you'll be placing on it. 
In this way, the inverter works within its capacity. Also, it reduces the chances of damaging the appliances when the power surges.
How to Choose The Right Size Inverter? 
Still, confused over how to select the correct size inverter? Don't worry! Here's an insight into the most significant features that might help you pick up the right size inverter for camping. So, here you go. 
As mentioned above, the power rating of different types of inverters falls between 150 to 6000 watts. You should know the devices you need to power up. Moreover, also keep a tab on the maximum surge. The time it takes to maintain a specific wave is crucial. So, don't neglect it. 
 When selecting the inverter size, ensure that your units meet two vital things, i.e., peak power and typical power requirements. Since the inverter needs to supply continuous power at a specified watt rating, think about the appliances you want to run and pick up the power drop-free unit.
Another crucial factor that you can't ignore is efficiency. Avoid choosing a server that is large in size and consumes a lot of power. Make sure that the inverter saves you from hefty bills. 
Other Factors to Consider While Buying the Best Camping Inverter 
Here are the two most significant factors you should consider while buying the best camping inverter: 
Now, let's discuss them separately. 
Budget 
Avoid buying an inverter that doesn't fall into your pockets. If your budget is minimal, go with inverters that are medium-priced. You can also purchase cheap inverters because not all of them are of low quality. Just be sure that you're buying from a renowned manufacturer. 
But if you can afford so, go ahead buying the best privacy model inverters, as studies suggest that 98% of them won't ever disappoint you. 
Safety 
Safety is another area that needs your due consideration. This includes the safety of the inverter and the device or appliance you are running on it. Every inverter comes with some specific features that make its user experience safe. High and low voltage can damage your device; thus, select an inverter that comes with essential safety features.
How to Setup a Power Inverter for Camping?
To set up your power inverter for camping, place it between the battery and the breaker. Appliances run on alternating current; the inverter draws direct current from the battery and changes it to an alternating current. You cannot directly plug the devices into your RV sockets, but you can achieve similar results by plugging their inverter. 
Watch out for this video and learn more about setting up an inverter while you are camping. 
Three Best Power Inverters for Camping
Once you know the size and the steps for setting up a power inverter, the next important thing is to decide the inverter you should use for camping. 
There are various options available in the market, but not all of them are worth using. After a lot of research, I finally have come up with the three best power inverters for camping. Check out their brief review and decide which one matches your needs. 
Compact and easy to carry
Environment friendly
Not suitable for devices rated over 100W
Only one DC to AC outlet
The Jackery Portable Power Station is a reliable and efficient inverter that provides some of the highest power output of the current market and thus is regarded as the best power inverter for camping. 
This pure modified sine wave inverter provides multiple charging options and other notable features that offer essential gadgets such as smartphones and laptops the required power to make a camping trip worth amazing. It comes with built-in flashlights and a small LED screen that allows you to monitor the amount of energy coming in and going out from the inverter.
The best thing about this inverter is its size. It is a minimal inverter that is easy to carry and offers plenty of charging ports. 
Lightweight
12 months warranty
Power supplies deplete quickly.'
The next on our list for the best power inverter for camping is Aiper with a larger capacity, mainly where the battery power is concerned. For this reason, it can power your gadgets for a more extended time. 
It is a safe and reliable power inverter to use because it protects against over-temperature over power, short circuit, and low sine wave power protection. It weighs only 3.5 pounds and thus is quite portable. 
It works well with tablets, mini fans, and television sets. On average, it can charge an iPhone in just twenty minutes. Isn't this amazing?
It comes with fantastic safety features
Durable
Compatible with most cars
Expensive
If you're looking for an inverter that powers up your essential appliances and devices faster on your vacations, you should try the BESTEK 2000W power inverter. It is a fully-fledged inverter with three AC outlets and one USB port that enables you to charge four devices simultaneously.  
The power inverter comes with impressive safety-centered features. This includes audible alarm and auto-shutdown protection that stops everything when there's overheating or a short circuit.
Another prominent feature of this inverter is the smart LCD. It allows users to stay informed about all essential details like DC input voltage, wattage, and fault codes.
The Bottom Line
Camping is fun, and to make your camping journey more incredible; you should use a power inverter. All the points mentioned in this guide will help you in choosing a suitable inverter for camping. So hurry up and buy one for your upcoming camping trip.
Was this article helpful?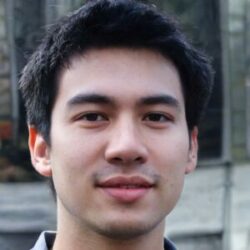 Matthew Joseph Nandirio
Matthew Joseph Nandirio
is the Founder of walkingsolar. After graduating from the University of Houston in 2002, matt started working as an electrical and electronic engineer for several multi-national solar energy companies. He has a wide range of experiences including solar system requirement analysis, planning, maintaining, debugging and even solar device development through research. He now shares his 20 years of expertise through his articles on the walkingsolar website. Further, he is also the author of two books on Solar Technology, "Solar Power for Villages" and "DIY Solar System for Dummies".